Two Cents about the Five and Dime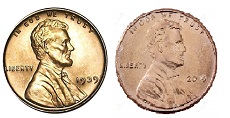 Did you know: There have been four Standard 5&10 stores?
The first opened in 1939 at 5435 Geary at 19th Street
The Laurel Village store on California Street was the second store to open, in 1949. HOWEVER, the store hasn't always been in its current location:

Standard 5&10 opened in 1949, at 3445 California (now the location of Bryan's Grocery,)
Next they expanded into the old Hickory Pit location at 3473 California (now Bryan's Meats).
Third time was a charm, and here they remain at 3545 California Street.
The third store opened in Tiburon's Boardwalk Shopping Center in the early 50's, and enjoyed over 40 years serving Marin customers before closing in 1996.
The fourth store opened in at 2616 Ocean Avenue in 1959 (formerly Mercury 5&10), but because of competition from Stonestown, the Lakeside Village store never could get off the ground.
The California Street store is the last Standard 5&10 remaining, but we're delighted to continue for 75 years, and we look forward to many more to come.
Standard 5&10 is proud to remain a family-owned and operated business; all four stores have always been owned and managed by only two families; Simon Kapstein, Simon's son Bob Kerner, Guenther Leopold, Guenther's son Jeff Leopold, and his wife Michelle. The store is a real Mom & Pop store.
The store recently underwent Ace Hardware's Helpful 101 Certification process, and Standard 5&10 Ace received a 97.2% helpful score by 210 customers (passing score is 80% with 100 customers minimum surveyed).

Standard 5&10 is included in Amy Tan's book The Joy Luck Club.

References to 5&10/Five and Dimes in songs include:
Love At The Five And Dime by Nanci Griffith
Five and Dime by Joshua Radin
Summer of '69 by Bryan Adams
It's Beginning to Look a Lot Like Christmas by Johnny Mathis
Five and Dime by Port O'Brien
I Found a Million Dollar Baby (In A Five & Ten Cent Store) by Bing Crosby
Raspberry Beret by Prince
Famous cinematic moments including Five and Dimes include:
Come Back to the Five and Dime, Jimmy Dean (Karen Black, Kathy Bates, Sandy Dennis, Cher, directed by Robert Altman)
Breakfast at Tiffany's (Audrey Hepburn, George Peppard) "Hey, did you ever steal anything from a Five & Ten?"
VISIT OUR BROTHER STORE!
Standard 5&10 Ace is the proud big sister to Marin Ace, our new hardware store over the Golden Gate Bridge in San Rafael. At both our stores, we strive to bring you unmatched selection, value, and service.
Marin Ace is located in the ♥ of Marin County at the former Sizzler, off 101 across from the Civic Center at the North San Pedro Road exit in San Rafael.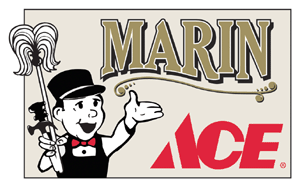 MARIN ACE HARDWARE
180 Merrydale
(formerly The Sizzler at 3725 Redwood Highway)
San Rafael, CA 94903
415/479-9393
Marin Ace hours: M-F 7-7, S-S 8-6