Our store is open:
Monday through Friday 8:00 AM to 7:00 PM
Saturday and Sunday 9:00 AM to 6:00 PM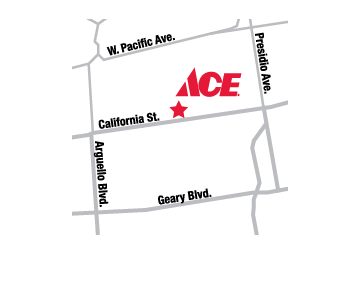 3545 California Street, San Francisco California 94118
DIRECTIONS
Standard 5 & 10 Ace is located in San Francisco's Laurel Village Shopping Center, at 3545 California Street between Spruce Street and Laurel Street. You'll find limited metered parking in the front, on California Street. Laurel Village offers 90 minutes of free parking while you shop, in the lot behind the store.