It is with heavy hearts that we say farewell to our store's Patriarch, Guenther Leopold, who passed away peacefully in his Burlingame home on April 13, 2017 from a brain tumor.
His life's work was Standard 5 & 10 Stores, where Guenther landed his first job as a stock clerk when he was 14 years old.  Little did he know in 1946 that retail would become not only his passion, but also the family business continuing to this day. Standard 5 & 10 was his "happy" place where he spent 71 years helping customers, and Guenther leaves behind a legacy of customer service, honesty, and kindness at the 5&10.
Guenther loved helping customers at Standard 5&10 and was often found on the sales floor, wearing a blue smock, a departure from the Ace-vests that other team members wear now. This was in tribute to the first store uniform when hired in 1946 as stock clerk at the Geary Street store, and he always insisted on wearing a blue smock until his illness required him to stop working regular hours at the 5&10.
Read more about Guenther's history at Standard 5&10 here.
In 2014, The J Weekly did a wonderful tribute to the legacy Guenther created in San Francisco, linked here
His obituary can be seen here
We are so grateful for all the kind words of condolence from our customers, vendors, and team past and present. Guenther will be dearly missed and will always be remembered as a true MENSCH.
Sincerely yours,
Jeff & Michelle Leopold, the extended Leopold family, and our Standard 5&10 family
April 26-30, 2017: Ace National BOGO Event
Buy One Get One Free on many great Spring items – through Sunday!
How Can We Help You This Spring?
Coupon: Free Paint Roller through 4/30/17
Stan's Kitchen Is 1-1/2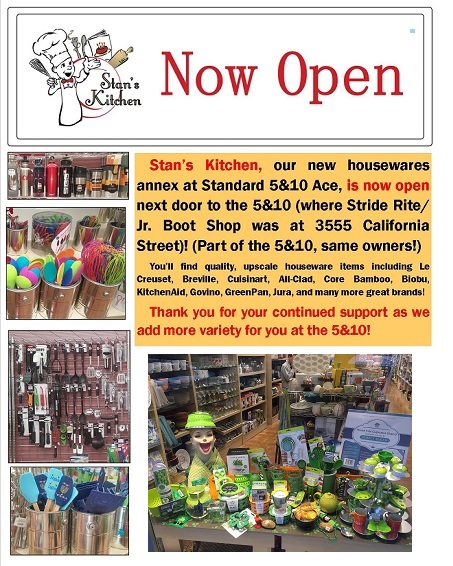 Visit Stan's Kitchen for answers to your culinary questions
at Stan's Kitchen @ Standard 5&10 Ace!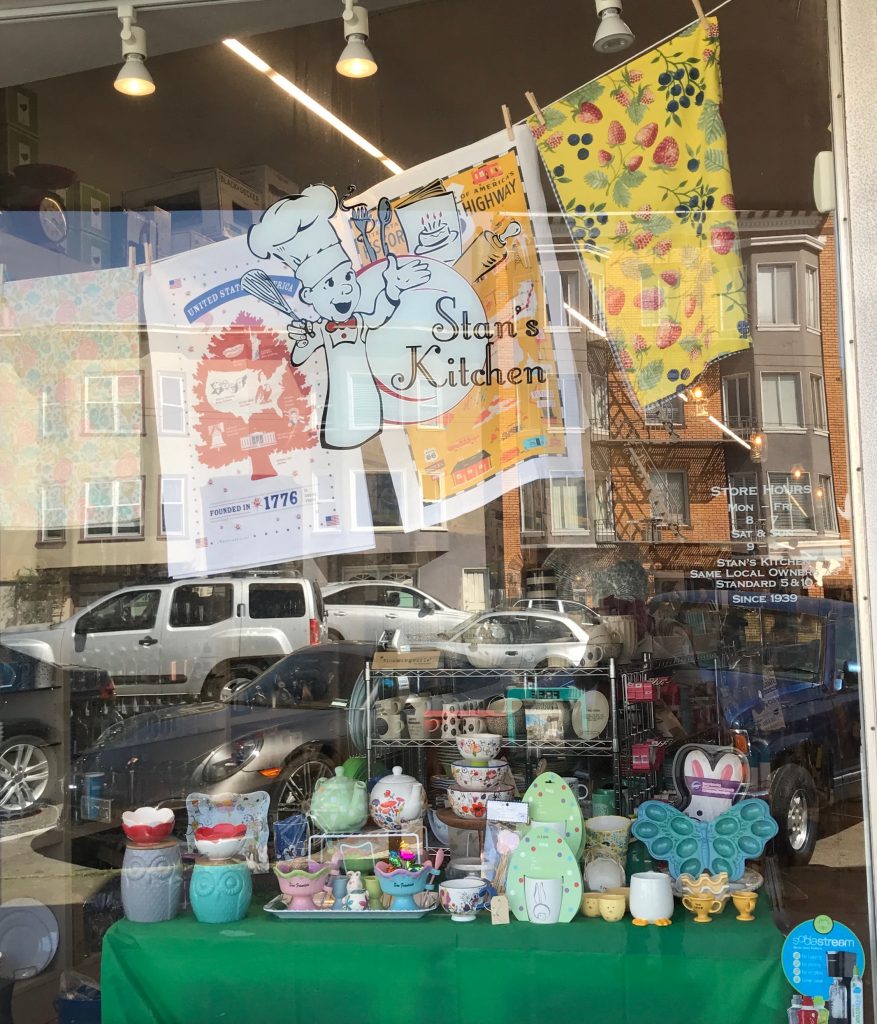 It's been over a year and a half since we opened our kitchenwares annex. Stan's Kitchen showcases top-end kitchen items not seen in Laurel Village since HomeChef left a decade ago, allowing us to expand other departments inside the 3545 building. Come in to chat with our knowledgeable staff.
April Red Hot Buys through 4/30/17!

Click here to see all our April deals this month!
All plants & seeds at Standard 5&10 Ace & Marin Ace are neonic-free

Click here to read why we're doing this…
HINT: We love our pollinators!
Free Pints of Paint at Standard 5 & 10
Visit Our Brother Store!
Marin Ace Hardware
Standard 5&10 Ace is the proud big sister to Marin Ace, our hardware store over the Golden Gate Bridge in San Rafael, who turned five in December. At both our stores, we strive to bring you unmatched selection, value, and service.
Marin Ace is located in the ♥ of Marin County at the former Sizzler, off 101 across from the Civic Center at the North San Pedro Road exit in San Rafael.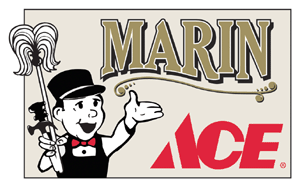 MARIN ACE HARDWARE
180 Merrydale
(formerly The Sizzler at 3725 Redwood Highway)
San Rafael, CA 94903
415/479-9393
Marin Ace hours: M-F 7-7, S-S 8-6
Services
at Standard 5&10
Offering Chip Keys and Fob Keys as well as Knife Sharpening!
Other services include Monday 55+ Senior Discount Days (10%), Friday Facebook Freebies, Key Duplicating, Lock Re-Keying, Paint Color Matching, Household Battery and Fluorescent/CFL Recycling, and more!
Click here to see all of our services
Ace Rewards
Instant Savings
Ace Rewards members get INSTANT SAVINGS every month on select sale items. Take advantage of hassle-free rebates at the register by joining Ace Rewards today at any register – and let us rebate you for shopping at Standard 5&10 Ace and Marin Ace!
Employment at Standard 5&10
and Marin Ace


Click Here for more information, job descriptions, and applications.