COVID-19 HOURS For our Essential Retail Store:
8am-6pm Monday through Friday
9am-6pm Saturday and Sunday
Our store's regular hours are:
Monday through Friday 8:00 AM to 7:00 PM
Saturday and Sunday 9:00 AM to 6:00 PM
We are open 362 Days a Year (363 in 2020/Leap Year):
We will be closed on Thanksgiving, Christmas, and on New Year's Day
We will close at 5pm on Memorial Day, the 4th of July, Christmas Eve, and New Year's Eve.
Other holidays may have adjusted hours – please call or text the store at 415.751.5767 with questions.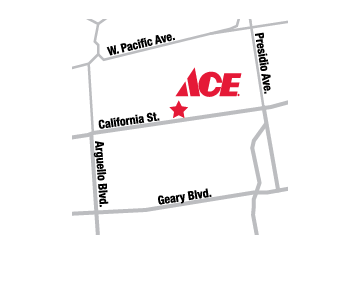 3545 California Street, San Francisco California 94118
DIRECTIONS
Standard 5 & 10 Ace is located in San Francisco's Laurel Village Shopping Center, at 3545 California Street between Spruce Street and Laurel Street.
Laurel Village offers 90 minutes of free parking while you shop, in the lot behind the store. Enter at Stan's Kitchen or at Standard 5&10 Ace from the back, or the front. Laurel Village is currently undergoing construction along California Street, and should be completely done before the holiday shopping season! After the renovation you'll find limited metered parking in the front, on California Street. In the meantime, we apologize for the dust and the changes in the accessibility along the front of the store!