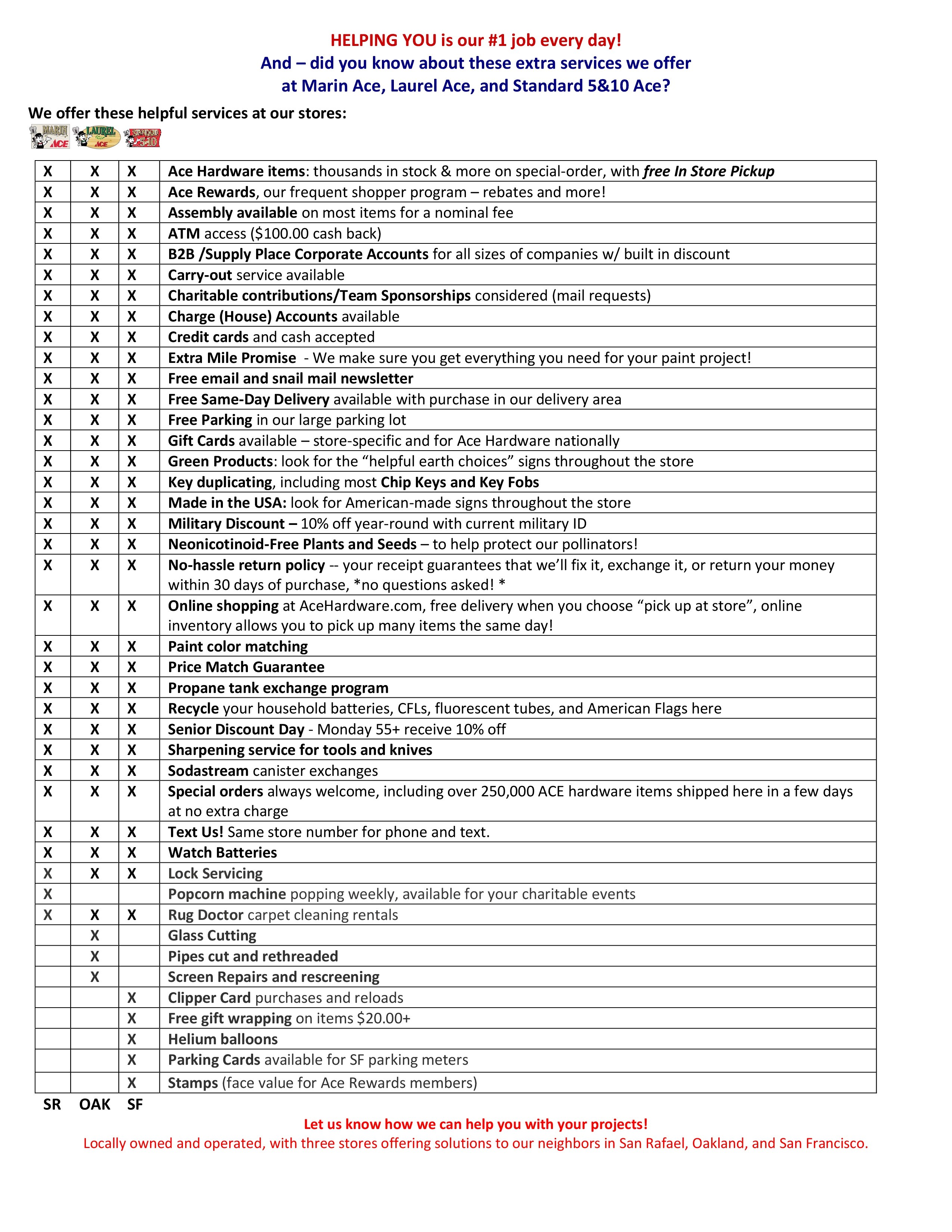 Services offered at Standard 5&10 Ace Hardware
While there is a handy-dandy chart just above, we know that you are looking for something specific if you are here.  So we have broken our services down into types to make it easier for you. They are product type, Delivery-related, recycling and trade-ins, Sharpening and repairs, discounts, and extras.
Product Types:
Rug Doctor Rentals: We now have Rug Doctors available to rent, along with a full range of rug cleaning products to go with them. Give us a call to find out more.
Tools & hardware: Standard 5& 10 Ace is a variety store and we carry many products that are not standard to hardware stores, however don't assume that we don't have what you need for your project.  We carry thousands of items from Ace Hardware and if you don't see the tool, or pipe, or lumber, or decking screw that you are looking for, we can order it and have it shipped to the store for free.
Gift Cards:  We offer two different types of gift cards.  We have the Ace national gift card which can be used at any Ace store in the nation, and we offer local gift cards for our three stores.  If you want to truly support local merchants and encourage people to shop local, then the local gift cards are the ones that you want.
Ecologically friendly and "green" products: We are committed to helping our community and one way we do that is to carry products that reduce our impact on the earth.  We partner with Our Water Our World to always have the least damaging products to use for pesticides and to limit rodents.  We also carry Beyond Coastal Natural sunscreen which is reef safe, and we only sell plants that are Neonicotinoid free, and non-invasive.  Just look for our shelf stickers that say "Helpful Earth Choice".
Keys: We carry 91% of all keys on the market, including chip keys, key fobs, electronic keys, and keyless entry.  With our recent partnership with Duracell, even if we don't have your key on the floor the odds are 91% in your favor that we can order it and have it within 2 days.
Clipper Cards: We offer both purchase and reload of clipper cards, these work for a variety of public transit from Bart and Golden Gate transit to the Smart train and Muni because we want to make it easy for you to get to us.
Balloons: We sell helium filled balloons, because balloon bouquets make people happy.  You can choose your colors and amounts along with some specialty helium balloons at our back counter.
Parking Cards: We offer parking cards that work on almost all San Francisco meters, because we live in the city without parking as well.
Postage Stamps: We offer face value postage stamps for our Ace Rewards customers, to lessen the stops that you need to make and to go without large mailing supplies section.
Watch Batteries: We offer a large selection of watch and specialty batteries so you are assured to find what you are looking for.
Special Orders: Don't see what you are looking for?  Let us know.  We have a large selection of items available on Acehardware.com that we can get for you in as little as two days.  We can also special order non-Ace items these might just take a little more time.  Ask any associate and they can get you started.
Delivery-related
Carry-out: We always strive to offer you all the help that we can, and that includes carry out service.  No questions asked.
Extra Mile Promise: Simply put we want to make sure that you have everything that oyu need to finish your paint project.  When you are in the store one of our helpful associates will go over all the items necessary to get the job done.  If we forget one or we tell you that you don't need it when you find out you do, call us and we will bring it to you with no delivery fee.
Newsletter delivery: We do a monthly newsletter letting you know about new products, tips and tricks, and our cool upcoming sales and coupons.  No need to pick one up at the store, just sign up for our mailing list and let us know if you want it mailed or emailed, a subscription is free of charge!
Free Same-Day Delivery: As long as you have purchased over $25.00 and live within 2 miles of our store, then we will deliver your purchase to your home for free! No more need to wonder if your vehicle is large enough, no more need to even bring your vehicle, we've got you.
Online Shopping with free delivery: If you shop on Acehardware.com and choose ship to store as your shipping option you pay no shipping charges.  It also means that you have local people available when you pick it up to answer any questions that you might have about it.
Recycling and Trade-Ins
No Hassle return policy: Your receipt guarantees that we'll fix it, exchange it, or return your money within 30 days of purchase, no questions asked.
Propane Tanks: We have a contract with Blue Rhino propane to be able to exchange your empty tank with a full one.
Recycling: We will take your household batteries, CFL's and fluorescent tubes and dispose of them in a responsible earth conscious way, so that you don't have to worry about it and they do not end up in the dump.
American Flags: We offer proper disposal of American flags.  Simply put the flag in the flag recycling bin and when the bin gets full we take them to the local Boy Scouts who dispose of the worn flags with respect and dignity.
Sodastream: We offer canister exchanges for both sizes of soda stream canisters, even if you didn't buy the initial one here.
Sharpening and Repairs
Knives: We will put a new edge on your carving knife and sharpen up your pocket knife.  We can sharpen both straight edge and serrated blades in-store.
Extras:
Ace Rewards: the number one service that we offer other than our helpful customer service is Ace Rewards.  It is a frequent buyers program but it is so much more.  With rebates, specialty coupons, and special offers just for our rewards members, this free program will save you money and time along with unlocking special programs just for our rewards customers.
Assembly: If you buy it from us we will assemble it for a nominal fee.
The Supply Place: Our Shop local business to business program which makes our stockroom limitless. We offer accounts for businesses of all sizes. We even offer a dedicated local salesman who offers personalized service for our business customers. For more information please contact our supply place specialist Alberto Bonilla at Alberto@marinace.com
Money Back at Point of Sale: We know that you don't want to go to the bank to get cash.  When using your bank card to pay for your purchase we offer up to $100.00 cash back.
Charitable Contributions/Team Sponsorships: We are committed to bettering our community and as such we have two dedicated charitable contribution employees. If you are affiliated with a non-profit organization and would like to be considered for a charitable contribution or team sponsorship, please contact Michelle, the Mom of our Mom and Pop store, at Michelle@standard5n10.com.
House Accounts: Are you buying daily?  We offer house charge accounts.  Please ask for an application at the counter.
Credit cards and cash always accepted:  We take all major credit cards and we still accept cash.
Parking: We have a large free parking lot for our customers in the back of our store.  It opens onto both spruce and laurel.  We also have a register at the rear of our store so that you can check out your items closer to your car.
Paint color matching: Looking for a specific color?  Want to paint your room the color of a family heirloom? All we need is a quarter sized sample to be able to run it through our paint matching computer, and to mix you up the amount that you need to finish the project.
Gift Wrap: We offer free gift wrap on any purchase over $20.00.
Price Match Guarantee:  If you are about to make a purchase and discover a lower advertised price by a local brick and mortar retail competitor on the same available brand and model, please let us know. It is our goal at Standard 5&10 Ace, Marin Ace, and Laurel Ace to always do our best to offer our customers competitive pricing.
Text us: We want you to be able to contact us.  We know that in this day and age texting is the easiest way for people to communicate and so we offer texting abilities.  You can call or text our phone number 415-751-5767 and one of our helpful hardware team members will text you back.
Lock re-keying: Did you know that you can get locks all keyed to the same key?  Re-keying simply means that we can change most common household locks and some padlocks to a different key than the one it currently takes.  We will need the key that it used to go to and the key that you now want it to fit.  Remember though that if you have a Schlage key you can't re-key a Kwikset lock and vice-versa.
Discounts:
Military: we are honored to offer a 10% military discount to all active duty and veteran military.
Senior Discount: Every Monday we offer a 10% discount to anybody age 55 or better.  We know it's rude to ask someone's age so please let us know if you qualify.
Teacher Discounts: We know that being an educator is a noble and underpaid calling.  We offer 10% discounts to all teachers with current i.d.
Business discounts: please see our above section about the Supply Place or contact our B2B specialist Alberto Bonilla at alberto@marinace.com