Round Up Your Change for AIDS LifeCycle in February!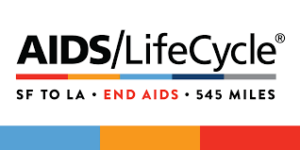 Our friend Terry Asten Bennett, who is the owner/manager of Cliff's Variety in the Castro, another great old-time variety store in San Francisco, asked us if we'd support her 2nd year as Bus Mom on the AIDS/LifeCycle event. We said we'd do more – and ask our customers if they will too! So, this month we're asking our customers to let us know if they want to round up their change at our registers. 100% of your change will go to local research and efforts to end AIDS. As of mid-month, 1,042 customers have rounded up their change to raise over $430 to date in February for Terry's AIDS/Lifecycle fundraising efforts.
January's Round Up efforts for the Nick Traina Foundation were $1,022.72 – thank you dear customers. The Nick Traina Foundation was founded in 1998 by our store's long-time supporter and best-selling author Danielle Steel as a legacy to her son who lost his life to manic-depression, when he committed suicide at nineteen.
Thank you for helping us help our community!
See what's cooking in Stan's Kitchen!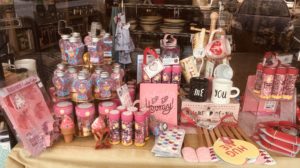 Visit Stan's Kitchen for answers to your culinary questions
at Stan's Kitchen – the housewares annex to Standard 5&10 Ace!
Stan's Kitchen opens at 9am daily
Our kitchenware annex, Stan's Kitchen, showcases top-end kitchen items not seen in Laurel Village since HomeChef left over a decade ago, allowing us to expand other departments inside the 3545 building. Come in to chat with our knowledgeable staff.
A New and Improved Laurel Village Shopping Center for 2019!
Newly renovated, WE ARE OPEN as Laurel Village's re-beautification project is now wrapped up and looks so much lovelier! The sidewalks and landscaping's finishing touches are finally complete!
Please park in our FREE parking lot behind the store – and our always-open back entrance doors at Stan's Kitchen and Standard 5&10 Ace!
For district-wide plans and updates, visit the SF Public Works website for Laurel Village at https://sfpublicworks.org/laurel-village
Check us out on Social Media!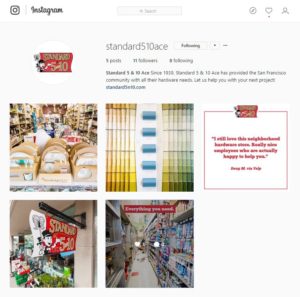 We've recently started posting on Instagram!
We've upped our game on Facebook,
and Twitter too!
Please check us out,
and if you "like" us,
please add your two cents
to online reviews about our Five and Dime on Yelp or on Google!
Visit Our Brother Stores!

Standard 5&10 Ace
is the proud big sister to
Laurel Ace
, our hardware store over the Bay Bridge in Oakland's Laurel District who joined our family on April 27, 2017 "under new management", as well as
Marin Ace
over the Golden Gate Bridge in San Rafael, who turned seven in December. At all three of our stores, we strive to bring you unmatched selection, value, and service.
LAUREL ACE HARDWARE
In Oakland's Laurel District, East off the 580/High Street exit:
4024 MacArthur Blvd.
Oakland, CA 94619

510/530-1966
Laurel Ace hours: Weekdays 7-7, Weekends 8-6
Marin Ace is located in the ♥ of Marin County at the former Sizzler, off 101 across from the Civic Center at the North San Pedro Road exit in San Rafael.
180 Merrydale
(formerly The Sizzler at 3725 Redwood Highway)
San Rafael, CA 94903
415/479-9393
Marin Ace hours: M-F 7-7, S-S 8-6