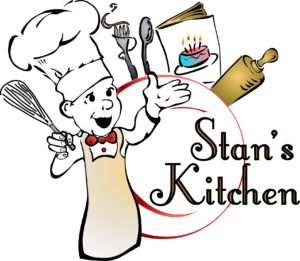 Okay, we know this sounds weird.  But trust us, this is the most amazing use of zucchini that you will find.  It tastes like the best apple cobbler ever but uses up all that zucchini that got snuck on your porch last night for national sneak zucchini on your neighbor's porch day. We know that this recipe originally came from Katherine Meyer but it is Lauren Lindstrom that made this recipe as amazing as it is.
Serves 16-20
You will need
Products
Cutting board
Peeler
Knife
Large saucepan
Mixing bowls
Baking pan 15x10x1
Ingredients
3 lbs zucchini
2/3 cup lemon juice*
2 tsp ground cinnamon*
½ tsp ground nutmeg*
4 cups all-purpose Flour
3 cups sugar
1 ½ cup Cold butter
Directions
-Preheat your oven to 375°
-Grease your baking pan.  You can do this the old fashioned way which involves rubbing butter all over the inside of the pan and then lightly dusting it with flour.  Or you can do what we do and spray the inside with Pam for baking.
-Peel the zucchini
-Cut it lengthwise in half and scoop out all the seeds.
-Chop the zucchini into smallish squares.  You should end up with about 8 cups
-Reserve ½ cups of the zucchini
-In a large saucepan over medium-low heat, cook and stir the zucchini and lemon juice for 15-20 minutes. Or until the zucchini becomes tender
-Add 1 cup sugar, nutmeg and 1 tsp of the ground cinnamon.  Simmer it for 1 minute.  Remove from the heat and set the mixture aside.
-You will now make the cobbler crust.
-In your mixing bowl combine the flour and remaining sugar, cut in your cold butter.  (This means that you are going to put small amounts of the cold butter into the mix until all the butter has been mixed in).  You want the mixture to look like coarse crumbs.
-Stir in the ½ cup of zucchini that you reserved earlier.
-Press half of your crust mixture into the greased pan.
-Pour your cooked zucchini mixture into the pan
-Crumble the remaining crust over the top
-Sprinkle with some cinnamon
-Bake for 30-40 minutes at 375
-Let cool a bit, but for best results serve warm with French vanilla ice cream.
*pre-juiced/ground or do it yourself.  We are not going to lie, in our kitchen we currently have a small container of lemon juice that came in a plastic lemon.  We also have some pre-ground cinnamon and nutmeg.  Yes, there are purist out there, and they are right, who say that you can taste the difference.  However, unless you are a cinnamon/nutmeg/lemon juice connoisseur you will not taste it over the sugar and ice cream and flour etc.  If you want to try the "purest" way you will need one large lemon or two small ones, a paring knife, a lemon reamer, a stick or two of cinnamon a whole nutmeg and a hand held zester/grinder.  We recommend the Microplane tool for this as they were first designed for wood rasping, but their culinary uses became apparent quickly and they are a high quality product that will do the job well and quickly.  In terms of the lemon juicing, if you have an over the top of the cup sort of juicer that is the fastest way to do it.  There are also hand-held reamers, which make a mess but look cool if you are making mixed drinks, and something called a manual juice squeezer which produces a lot of juice and is what we have in our kitchen.