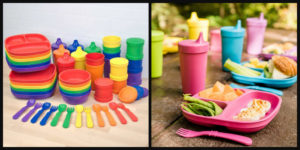 With Thanksgiving just around the corner, now is a great time to talk about place settings.  We know (okay we pretend to know) the traditional setting, Fork on the left with knife and spoon on the right, knife edge under the lip of the plate.  But we also know our family and frankly, we haven't dusted off what's left of Grandma's china in years.
Enter RE♻Play.  Family owned and operated they were founded on the belief that "mealtime is family time", so they made their place settings useful and attractive for the whole family.
Re-Play obviously knows a lot about feeding families.  With their bright, dishwasher and microwave safe, recycled, BPA-free plates, forks, and cups this line will ensure that the kids and adults have dishes that will survive your uncle's annual mashed potato fling and your new baby nephews first taste of green beans.   It will also help keep plastic out of the ocean and reduce the need for single-use plates, cutlery, and cups at big family gatherings.
The best part is that because the dishes, silverware, and cups are durable you can take them with you on picknicks, to concerts and performances, or over to your sisters house, because she never has enough plates and you always end up eating turkey and gravy off of paper (which promptly falls apart in your lap).
So keep the plastic out of the ocean, and the gravy off your lap by stopping by and seeing our new line of Re♻Play dishes!